Looking to dip your toes into the world of snorkeling? We've got you covered with a curated list of the top snorkeling destinations that are perfect for beginners. Whether you're a seasoned underwater explorer or a newbie wanting to try something new, these stunning locations offer shallow waters, gentle currents, and an abundance of colorful marine life. Grab your snorkel gear, and get ready to embark on an unforgettable adventure!
This image is property of snorkelventure.com.
The Top Snorkeling Destinations for Beginners
If you're new to snorkeling and looking for the perfect destination to dive into this exciting underwater activity, you're in luck! There are many incredible places around the world renowned for their beautiful snorkeling spots, catering specifically to beginners. Whether you're in the mood for tropical beaches, crystal-clear waters, or vibrant marine life, we've got you covered. Let's explore some of the top snorkeling destinations for beginners across various regions.
Caribbean
The Caribbean is a paradise for snorkeling enthusiasts, and Belize, Curaçao, and Grand Cayman are some of the gems in this stunning region. Belize offers mesmerizing snorkeling opportunities, with its warm turquoise waters and the UNESCO-listed Belize Barrier Reef, which is the second-largest barrier reef system in the world. Curaçao boasts an incredible underwater world with colorful coral reefs and a wide variety of marine species to discover. And Grand Cayman, with its crystal clear waters and calm conditions, is perfect for beginners to explore vibrant coral reefs teeming with tropical fish.
Pacific Islands
For those seeking snorkeling adventures in the Pacific Islands, Hawaii, Bora Bora, and Palau are the go-to destinations. Hawaii offers an abundance of snorkeling spots, including Hanauma Bay, where beginners can marvel at the stunning coral reefs and encounter colorful marine life. Bora Bora, known for its picturesque surroundings, offers clear turquoise waters and a diverse marine ecosystem that's easily accessible for snorkeling beginners. Palau, famous for its pristine waters and stunning rock islands, is a snorkeler's paradise, with its iconic Jellyfish Lake being a must-visit.
South East Asia
In South East Asia, Thailand, the Philippines, and Indonesia are renowned for their breathtaking snorkeling experiences. Thailand's turquoise waters are home to vibrant coral reefs, making spots like Koh Phi Phi and Similan Islands ideal for beginners to explore the underwater world. The Philippines, with its stunning turquoise waters and multiple marine sanctuaries, including Apo Island and El Nido, is a dream snorkeling destination. Indonesia, known for its rich marine biodiversity, offers incredible snorkeling experiences in destinations like Bali and the Gili Islands.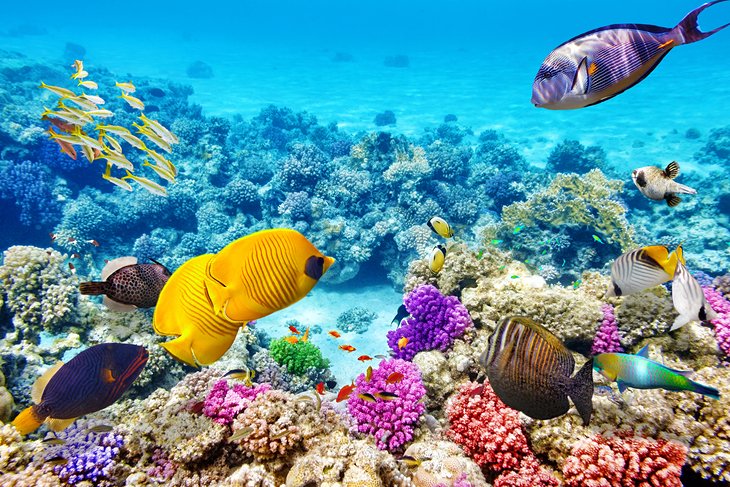 This image is property of www.planetware.com.
Australia
Australia is home to some of the world's most iconic snorkeling locations, including the Great Barrier Reef, Whitsunday Islands, and Cairns. The Great Barrier Reef is a snorkeler's paradise and a UNESCO World Heritage Site, offering an unrivaled marine ecosystem with stunning coral formations and a plethora of colorful fish. The Whitsunday Islands, with their crystal-clear waters and vibrant underwater gardens, provide a fantastic snorkeling experience for beginners. Cairns, a gateway to the Great Barrier Reef, offers snorkeling opportunities amidst breathtaking marine diversity.
Maldives
The Maldives is a dream destination for snorkeling enthusiasts, and the North Malé Atoll, Ari Atoll, and Baa Atoll are among the top choices for beginners. The North Malé Atoll features stunning snorkeling spots with calm waters, vibrant coral reefs, and an array of aquatic creatures that are perfect for those starting their underwater exploration. Ari Atoll, known for its biodiversity and pristine waters, offers majestic snorkeling sites, while Baa Atoll is famous for its manta ray and whale shark encounters, providing unforgettable snorkeling experiences.
This image is property of www.ourglobetrotters.com.
Red Sea
For those looking to snorkel in the Red Sea, Egypt, Jordan, and Saudi Arabia offer some incredible opportunities. Egypt's Red Sea Riviera is celebrated for its breathtaking underwater scenery, with vibrant coral reefs and diverse marine life. Jordan's Aqaba, located on the Red Sea coast, is a hidden gem offering stunning coral reefs just a short distance from the shore. Saudi Arabia's Red Sea coast is also gaining popularity among snorkelers, with its pristine reefs, clear waters, and an abundance of tropical fish.
Mediterranean
The Mediterranean boasts some fantastic snorkeling destinations, with Greece, Turkey, and Malta standing out as excellent options for beginners. Greece's crystal-clear waters are perfect for snorkeling, and locations like Crete and Rhodes offer fantastic underwater visibility and a chance to explore fascinating marine life. Turkey's coastlines, including the Aegean and Mediterranean seas, feature stunning snorkeling spots, such as Kas and Fethiye, where you can discover ancient ruins and vibrant marine ecosystems. Malta also offers crystal-clear waters, hidden caves, and beautiful reefs, making it a perfect snorkeling getaway.
This image is property of tripoutside.com.
Mexico
Mexico is a favorite destination for snorkeling enthusiasts, and Cozumel, Tulum, and Cancun are must-visit spots. Cozumel, located on the Yucatán Peninsula, offers breathtaking coral reefs and crystal-clear waters that are perfect for snorkeling beginners. Tulum, known for its stunning Mayan ruins, also offers excellent snorkeling opportunities, with its picturesque cenotes (natural sinkholes) providing unique underwater landscapes. Cancun, with its beautiful beaches and proximity to the Mesoamerican Barrier Reef, offers diverse marine life and magnificent snorkeling experiences.
Florida
Florida, with its warm weather and beautiful coastlines, offers excellent snorkeling options for beginners. Key West, Key Largo, and Islamorada are popular destinations. Key West, known for its vibrant coral reefs and clear waters, provides great snorkeling experiences close to the shore. Key Largo, the gateway to the Florida Keys, offers beautiful coral reefs, shipwrecks, and the world's first underwater park, John Pennekamp Coral Reef State Park. Islamorada is famous for its shallow waters, allowing beginners to explore colorful fish, sea turtles, and coral formations.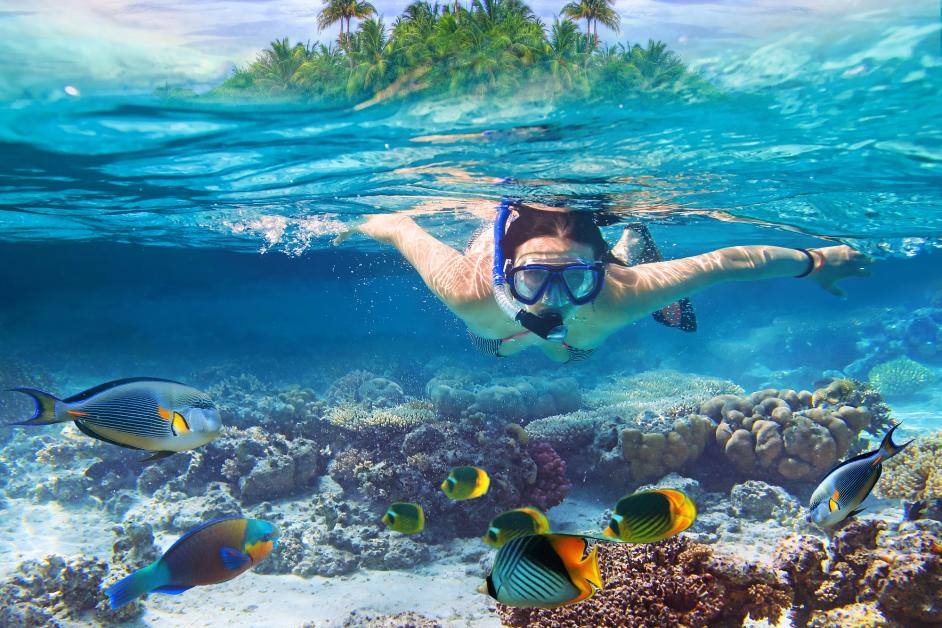 This image is property of tripoutside.com.
African Coast
The African Coast is home to some incredible snorkeling spots, with Mauritius, Mozambique, and Tanzania being highlights for beginners. Mauritius boasts breathtaking turquoise waters and stunning coral reefs, with spots like Blue Bay Marine Park providing the perfect snorkeling experience for beginners. Mozambique offers an abundance of marine life and pristine coral reefs, especially around the Bazaruto Archipelago. Tanzania's Zanzibar Island, known for its powdery white sand and clear waters, allows beginners to snorkel alongside tropical fish, sea turtles, and even dolphins.
With these top snorkeling destinations for beginners, you can embark on a thrilling underwater adventure and discover the beauty of the world beneath the waves. Whether you choose to explore the Caribbean, Pacific Islands, South East Asia, Australia, the Maldives, the Red Sea, the Mediterranean, Mexico, Florida, or the African Coast, each destination holds its own unique wonders that are sure to leave you in awe. So pack your snorkel gear, grab your sunscreen, and get ready to dive into the enchanting world of snorkeling!