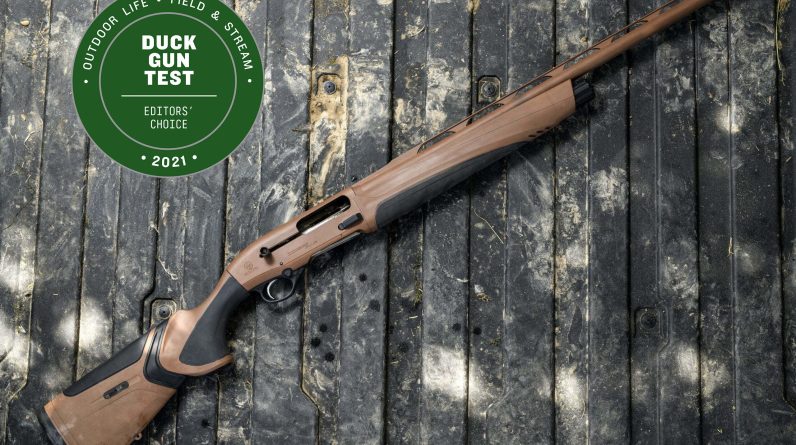 Looking to find the perfect shotgun for waterfowl hunting? Well, you've come to the right place! In this article, we'll be diving into the world of waterfowl hunting shotguns and helping you choose the one that suits your needs and preferences. Whether you're a seasoned hunter looking to upgrade your equipment or a beginner just starting out, we've got you covered. So, let's get started and find the ideal shotgun for your next waterfowl hunting adventure!
Curious to know what factors you should consider when selecting a shotgun for waterfowl hunting? Interested in learning about the different types of shotguns available and their specific features? We've got all the information you need to make an informed decision. From discussing the importance of gauge and length to exploring different types of actions and chokes, we'll guide you through the process of choosing the perfect shotgun. So, without further ado, let's embark on this exciting journey together and equip ourselves with the knowledge needed for a successful waterfowl hunting experience! When it comes to waterfowl hunting, choosing the perfect shotgun can make a world of difference in your shooting experience. There are several factors to consider when making this important decision, including the gauge, action, barrel length, weight, recoil, and reliability of the shotgun. In this article, we will discuss each of these factors in detail to help you make an informed choice.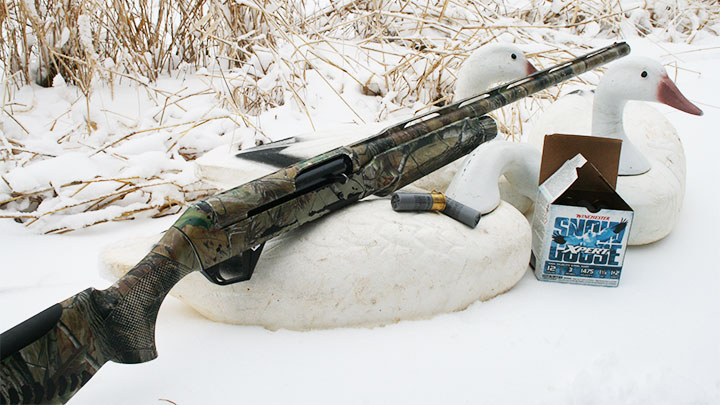 This image is property of www.americanhunter.org.
Gauge
The gauge refers to the diameter of the shotgun's bore. For waterfowl hunting, the most popular gauges are 12, 20, and 10. The 12 gauge is the most commonly used gauge due to its versatility and wide variety of available ammunition. It offers a good balance between power and recoil, making it suitable for shooting a range of waterfowl species. The 20 gauge is a lighter option that still provides sufficient power for hunting waterfowl. It has less recoil than the 12 gauge, making it easier to handle, especially for smaller-framed individuals or those sensitive to recoil. The 10 gauge, on the other hand, is a more powerful option that is best suited for long-range shooting and larger waterfowl species.
Action
Shotguns come in different action types, including pump action, semi-automatic, and break action. Each action type has its own advantages and disadvantages. Pump action shotguns are reliable and easy to maintain, making them a popular choice for waterfowl hunting. They require manual cycling of the action after each shot, which can be slightly slower compared to other action types. Semi-automatic shotguns offer faster follow-up shots and reduced recoil due to their gas-operated or inertia-driven systems. They are ideal for shooters who prefer a quicker shooting experience. Break action shotguns, such as over-under or side-by-side models, offer simplicity and reliability. They are easy to load and unload but have limited ammunition capacity.

This image is property of content.osgnetworks.tv.
Barrel Length
The barrel length of a shotgun can affect its maneuverability and accuracy. For waterfowl hunting, shorter barrels are often preferred due to their increased maneuverability in dense vegetation and tight shooting situations. They allow for quick target acquisition and fast swings, which are crucial when shooting waterfowl on the move. However, shorter barrels may sacrifice some accuracy and range compared to longer barrels. If long-range shooting and improved accuracy are your priorities, opting for a shotgun with a longer barrel may be the better choice.
Weight
The weight of a shotgun can greatly impact your hunting experience. Lightweight shotguns are desirable for their ease of carrying and maneuverability in the field. They allow for quick swings and minimal fatigue during long hunting days. However, lightweight shotguns can also have more recoil due to their reduced mass. If you are sensitive to recoil or prefer a more stable shooting platform, a slightly heavier shotgun may be a better option. Heavier shotguns absorb more recoil, resulting in less felt recoil and potentially improved accuracy.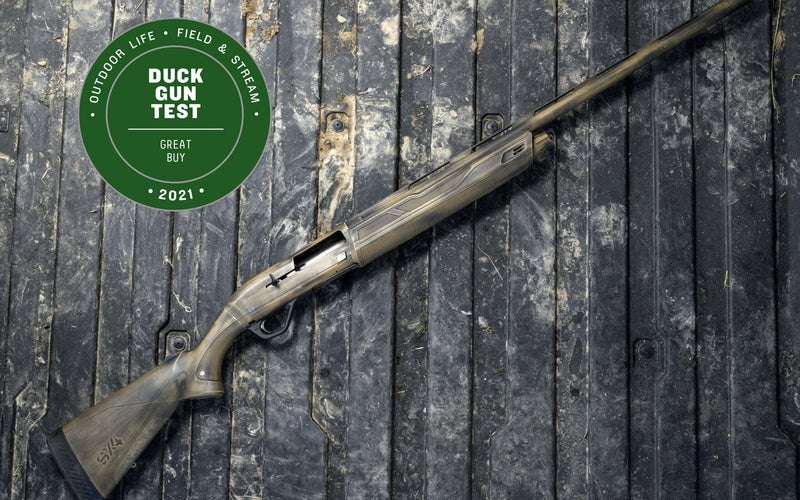 This image is property of www.outdoorlife.com.
Recoil
Recoil is an important factor to consider when choosing a shotgun. The recoil produced by the shotgun can affect your shooting comfort and accuracy. Different shotguns and gauges produce varying levels of recoil. To manage recoil effectively, there are two main considerations. First, consider shotguns that incorporate recoil-reducing systems, such as recoil pads or hydraulic systems. These systems help absorb and mitigate recoil, making the shooting experience more comfortable. Second, utilize proper shooting techniques, such as maintaining a firm grip on the shotgun, keeping a sturdy stance, and leaning slightly into the shot. These techniques can help you better manage recoil and maintain accuracy while shooting.
Reliability
Reliability is a crucial factor when choosing a shotgun for waterfowl hunting. You want a shotgun that will function flawlessly in various weather conditions and environments. Opt for well-known and trusted brands that have a proven track record of reliability. These brands typically have excellent customer service and offer warranties, ensuring that any issues that may arise with the shotgun will be resolved promptly. Additionally, pay attention to the shotgun's manufacturing and construction quality. A well-made shotgun will have tight tolerances, smooth operation, and sturdy materials, ensuring its reliability and longevity.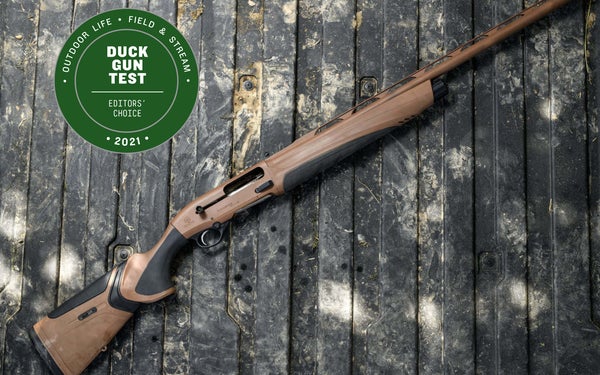 This image is property of www.fieldandstream.com.
Understanding Shotgun Choke for Waterfowl Hunting
Shotgun chokes play a significant role in determining the spread and effective range of shot patterns. For waterfowl hunting, there are three main choke options: improved cylinder, modified choke, and full choke. The improved cylinder choke provides a wider shot pattern, which is ideal for close-range shooting and fast-flying waterfowl. The modified choke offers a slightly tighter pattern, suitable for medium-range shooting and versatile enough for most waterfowl hunting situations. The full choke delivers the tightest shot pattern, making it suitable for longer-range shots and larger waterfowl species.
Optimal Shot Size for Waterfowl Hunting
The shot size for waterfowl hunting is dictated by the regulations in your specific region, as many areas require the use of non-toxic shot. Steel shot is the most commonly used type of non-toxic shot due to its affordability and wide availability. It provides adequate performance for shooting waterfowl at medium to long distances. Tungsten and bismuth shot offer denser patterns and increased downrange energy, making them effective options for larger waterfowl species or longer-range shooting. However, these alternative shot types can be more expensive.
In conclusion, choosing the perfect shotgun for waterfowl hunting requires careful consideration of several factors. Gauge, action, barrel length, weight, recoil, reliability, shotgun choke, and shot size all play a role in determining the suitability of a shotgun for waterfowl hunting. Ultimately, the best shotgun for you will depend on your personal preferences, shooting style, and the specific waterfowl hunting scenarios you anticipate. By weighing these different factors and conducting thorough research, you can make an informed decision and select a shotgun that will enhance your waterfowl hunting experience.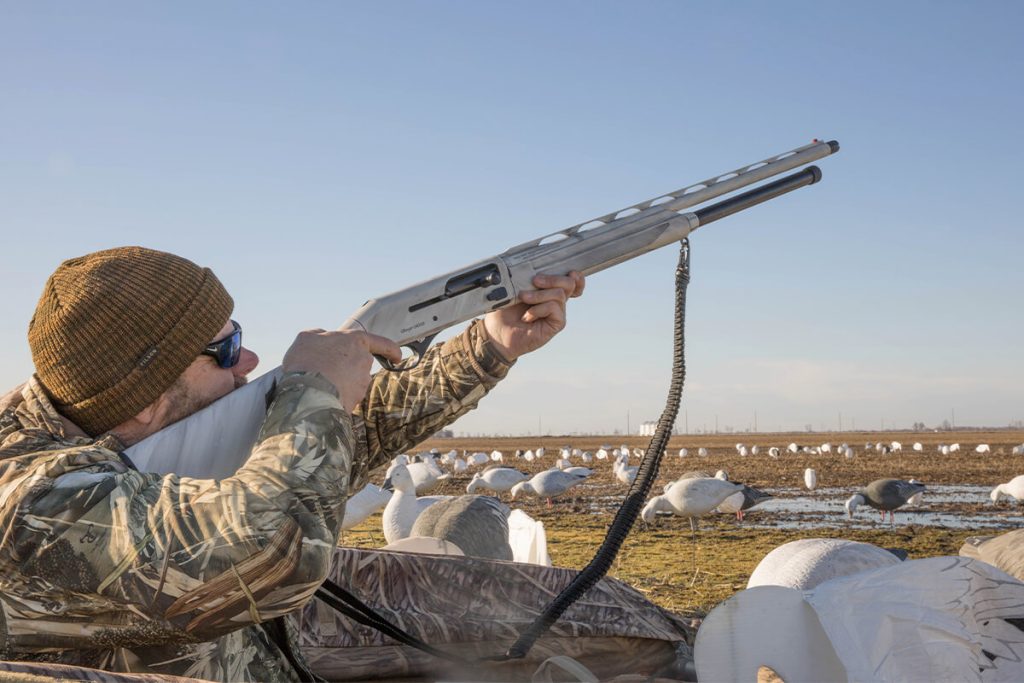 This image is property of content.osgnetworks.tv.