Are you a passionate windsurfer who wants to enjoy the thrill of gliding across the water with ease? Look no further! In this comprehensive guide, we will walk you through the step-by-step process of caring for your windsurfing harness, ensuring it stays in optimal condition and provides you with maximum comfort and safety. Whether you're a seasoned pro or just starting out, taking care of your harness is crucial for enhancing your windsurfing experience. So, grab your harness and let's dive into the world of windsurfing gear maintenance!
A Step-by-Step Guide to Care for Your Windsurfing Harness
This image is property of howtowindsurf101.com.
Ensure Proper Cleaning
Properly cleaning your windsurfing harness is essential to maintaining its performance and longevity. After each use, rinse the harness with fresh water to remove salt, sand, and other debris that may have accumulated during your session. Use a soft bristle brush or sponge to gently scrub the harness, paying special attention to areas with dirt buildup. Avoid using harsh detergents or abrasive cleaners, as they can damage the materials.
Inspect for Damage
Regularly inspecting your windsurfing harness for any signs of damage is crucial to ensure your safety on the water. Look for any frayed or worn straps, ripped seams, or broken buckles. Check that the stitching is intact and secure, and that the padding is still in good condition. If you spot any damage, it's important to address it immediately. Small repairs can often be done at home, but if you're unsure or the damage is extensive, it's best to consult a professional.
Maintain the Buckles and Straps
The buckles and straps are vital components of your windsurfing harness, providing the necessary support and security. To prevent them from deteriorating or becoming unusable, it's important to regularly maintain them. Keep the buckles and straps clean by wiping them with a damp cloth and ensuring they are free from any debris. Apply a silicone lubricant to the buckles to keep them moving smoothly. Check the straps for any signs of wear or stretching, and replace them if needed.
Store the Harness Properly
Properly storing your windsurfing harness when it's not in use can significantly extend its lifespan. Ensure that the harness is completely dry before storing it to prevent mold or mildew growth. Hang the harness in a well-ventilated area, away from direct sunlight, to allow for proper airflow. Avoid storing it in areas prone to high humidity or extreme temperatures, as this can accelerate material degradation. A dedicated harness storage bag or hook can help protect it from any potential damage.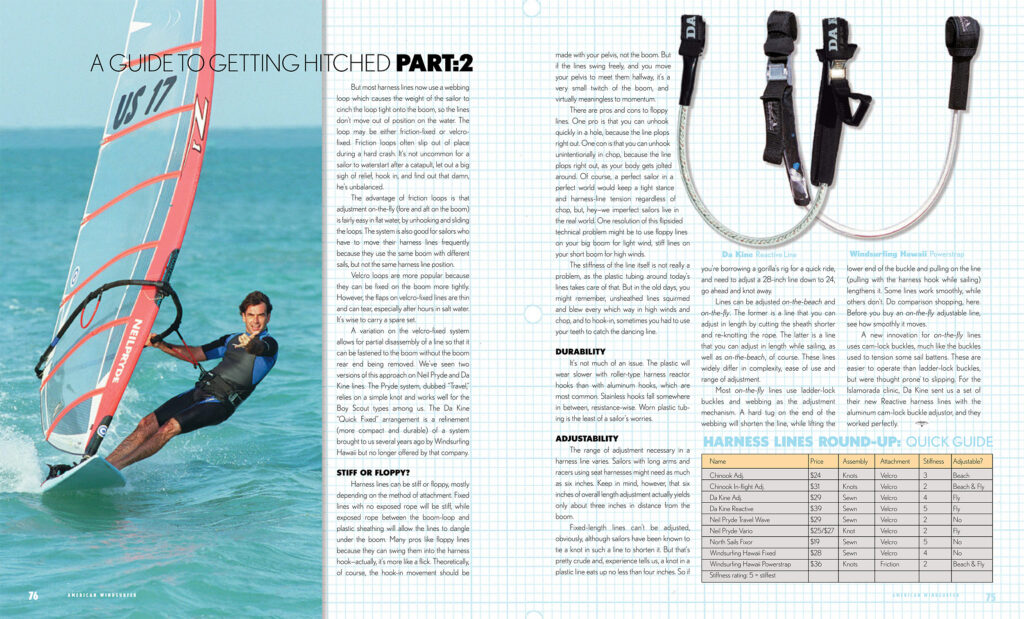 This image is property of www.americanwindsurfer.com.
Keep it Away from Extreme Temperatures
Extreme temperatures can have a detrimental effect on the materials of your windsurfing harness. Exposure to excessive heat can cause the harness to warp, melt, or become brittle, while extreme cold can make the materials more prone to cracking or breaking. Avoid leaving your harness in a hot car or exposing it to freezing temperatures for extended periods. Whenever possible, store your harness in a temperature-controlled environment to ensure its durability.
Avoid Sun Exposure
While windsurfing often involves spending hours under the sun, prolonged exposure to UV rays can lead to material degradation in your harness. Sunlight can cause the colors to fade, the padding to deteriorate, and the straps to weaken. Whenever you're not wearing your harness, keep it out of direct sunlight. If you're taking a break on the beach, consider covering your harness with a towel or placing it in a shaded area to protect it from the sun's harmful rays.
This image is property of www.americanwindsurfer.com.
Properly Dry After Use
After a windsurfing session, make sure to thoroughly dry your harness before storing it. Hang it in a well-ventilated area to allow air to circulate and dry the harness naturally. Avoid using heat sources like hairdryers or heaters, as direct heat can damage the materials. Ensure that all the straps are unbuckled to allow for complete drying. Properly drying your harness helps prevent the growth of mold, mildew, and unpleasant odors.
Do Not Over-Tighten Straps
While it's important to ensure a secure fit, over-tightening the straps on your windsurfing harness can cause unnecessary stress on the materials and lead to premature wear. Adjust the straps so that the harness fits snugly and supports your body properly, but avoid excessive force. It's essential to find the right balance between a secure fit and maintaining the comfort and flexibility necessary for effective windsurfing. Regularly check the tightness of the straps before each session to ensure a safe and comfortable experience.
This image is property of dropinblog.net.
Replace Worn Parts
Over time, the straps, buckles, and padding of your windsurfing harness may wear out and need replacement. If you notice any signs of wear, fraying, or reduced performance in these components, it's important to replace them promptly. Using a harness with worn parts can compromise your safety and hinder your windsurfing experience. Contact the manufacturer or a windsurfing equipment specialist for guidance on finding suitable replacement parts and ensure that they are properly installed.
Regularly Check and Adjust Fit
Your windsurfing harness should provide a secure and comfortable fit to ensure optimum performance. It's important to regularly check and adjust the fit to accommodate any changes in your body shape or preferences. Pay attention to how the harness feels during your sessions and make any necessary adjustments to the straps to ensure proper support and freedom of movement. A well-fitted harness is essential for proper weight distribution and minimizing strain on your body.
By following these step-by-step guidelines, you can ensure that your windsurfing harness remains in excellent condition and provides you with the necessary support and comfort on the water. Regular cleaning, careful inspection for damage, proper maintenance of buckles and straps, and appropriate storage can significantly prolong the life of your harness. Remember to keep it away from extreme temperatures and sun exposure, dry it properly after use, avoid over-tightening the straps, and replace worn parts as needed. Additionally, regularly checking and adjusting the fit will ensure you have a safe and enjoyable windsurfing experience.
This image is property of www.severnesails.com.